Real Estate Project Financing
For Fund Managers, Real Estate Developers, and other Property Owners, SafeRE is the path to reach a global investor audience and finance more efficiently.
Ethical. Innovative. Rewarding
Real estate project financing refers to the process through which funding is secured for property development projects. Traditionally, this involved engaging with multiple lenders, dealing with a mountain of paperwork, and incurring significant costs, often leading to complexities and delays. SafeRE has reshaped this landscape with its blockchain based real investment platform. SafeRE leverages technology, offers transparency, and ensures accessibility to effectively streamline the way real estate financing is done.
8 Reasons to Finance on SafeRE platform
SafeRE is the most beneficial way to invest in real estate. Join the SafeRE portal to browse the different opportunities today. SafeRE charges no transaction fees and delivers a trustworthy product to investors.
Speed
Automation results in fast decision making and secure transaction execution.
Diversity
Investors on SafeRE include institutions, family offices and individual investors.
Impact/ You are doing good
SafeRE also offers investment opportunities that are considerate of environmental impact.
Cost
SafeRE provides the lowest cost option for fundraising.
Digitisation
SafeRE's value chain is completely digitized and easy to use.
Tax Efficiency
Real estate investment structures on SafeRE are tax-optimised.
Liquidity
The SafeRE marketplace allows financing anytime on short notice.
Reach
SafeRE guarantees you global reach to interested real estate investors.
Why Choose SafeRE for Real Estate Financing?
As a premier real estate investing and financing platform, SafeRE offers a wide range of tailored solutions to fit your needs. If you are exploring real estate debt financing to fund your property acquisition or project development, we can connect you with suitable resources. Furthermore, if you are an individual investor looking for private real estate financing, our platform provides opportunities for investment in diverse real estate projects. At SafeRE, we cater to the varying needs of our clients, offering a seamless, efficient and comprehensive approach to real estate financing.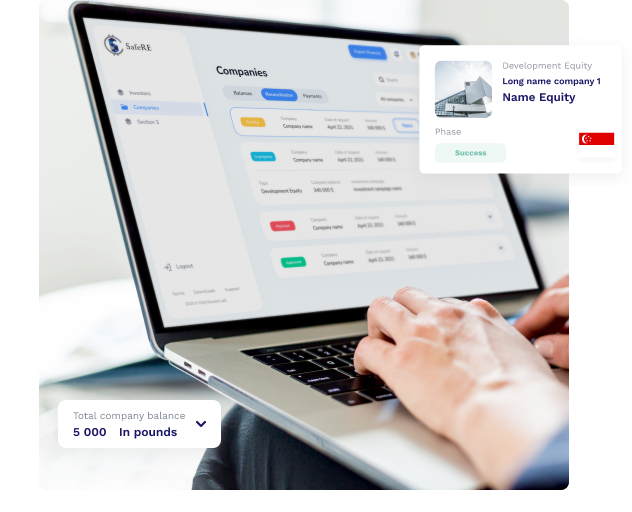 Due Diligence is our key pillar
SafeRE Proprietary Due Diligence process is rigorous to ensure risk mitigation
Market analysis is essential to estimate the potential income and expenses of the investment
Assessment of the future outlook of the market.
ESG assessment
Legal, tax and physical inspection of the investment adds exposure & trustworthiness
At SafeRE, credibility is what we live by. With SafeRE you earn the trust of potential investors and build a loyal base of recurrence.
Explore Real Estate Project Financing With SafeRE
Whether you are a Fund Manager, Real Estate Developer, and other Property Owner, SafeRE is the path to reach a global investor audience and finance more efficiently. Explore the future of real estate financing with SafeRE today.
Stay Connected
You'll occasionally hear from SafeRE team with the choice to unsubscribe anytime in each email.