Platform
User experience
process
Innovative, fast, convenient and fully digital
No fees, no intermediary involvement
Regulated and secure
Tap on industry experts and have access to institutional deals
Instant, transparent, fair
Registration
Open your account on SafeRE
Complete your KYC process
Become a user and start to invest
Deposit
Deposit your money into your SafeRE bank account
Your deposit money is now visible on your multi-currency wallet
Invest
Browse through investment opportunities
Select your favorite investment project
Select your investment amount
Place your order
Trade
Receive your tokens representing the fractional ownership of bond or equity instruments
You can now trade your tokens with other investors on SafeRE
Manage your portfolio
Receive, return or interim payment(s)
SafeRE tokenization process
Highest quality in investments and manager
Regulated and secure
Transparent monitoring on the progress of investments, no currency risk, trustworthy
Transactions are immutable, traceable and transparent, fully automated and no human errors possible
Investment selection
SafeRE to appoint license manager to select investment proposal
Industry experts conduct careful Due Diligence
Manager approves the listing of investment on SafeRE
Investment creation
Deposit your money into your SafeRE bank account
Your deposit money is now visible on your multi-currency wallet
Transactions
Browse through investment opportunities
Select your favorite investment project
Select your investment amount
Place your order
Investment management
Receive your tokens representing the fractional ownership of bond or equity instruments
You can now trade your tokens with other investors on SafeRE
Manage your portfolio
Receive, return or interim payment(s)
SafeRE Platform
SafeRE is the digital real estate market place for investors seeking direct, profitable access to global, institutional-grade real estate investments and for asset owners looking for capital and liquidity. SafeRe's innovative, technology-driven business model is transparent, open, efficient, and ethical. It overcomes the limitations of current real estate investments to deliver a far better service and higher returns, more securely and at a much lower cost.
Investments on SafeRE include debt and equity instruments, issued and registered in compliance with Monetary Authority of Singapore regulations. SafeRE generates block-chain based security tokens, that allow investors to buy and sell their investments without transaction fees. Holding security tokens with SafeRE is secure.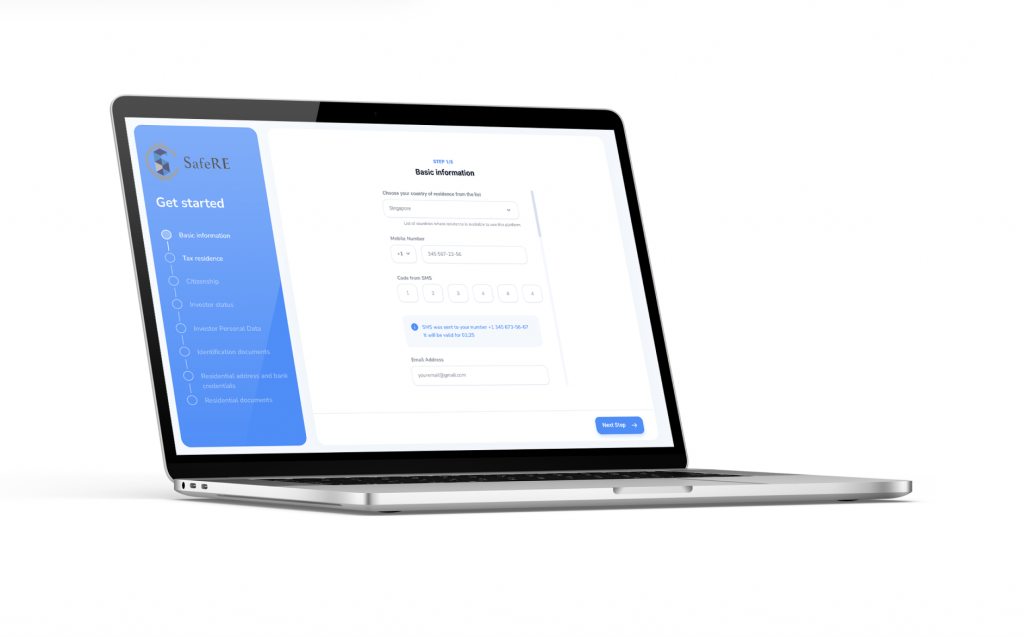 Easy Onboarding
You register by filling in your email address and mobile phone number. For security purposes, you will receive a 4-digit code to your phone and an email activation link.
Now you can view your investment opportunities.
Before investing, we will help you comply with basic legal requirements, by providing the necessary information like your Passport and residential address.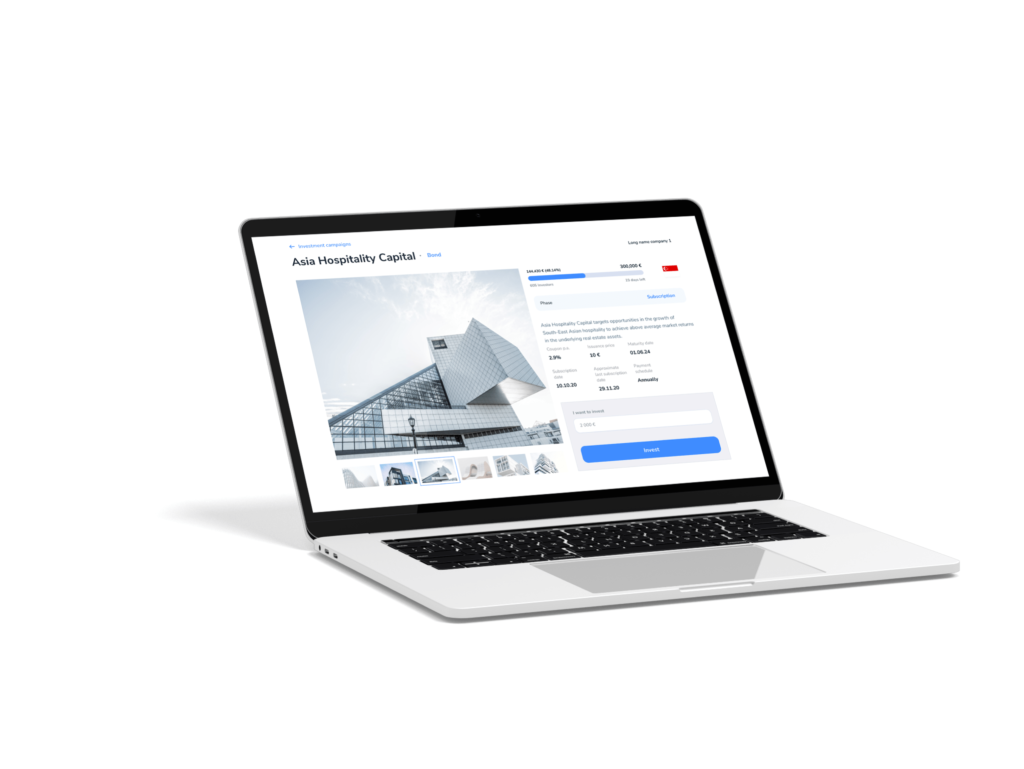 Efficient Investing
The deposit and investment process:
is both fast and efficient
gives you immediate access to a personal Multi-currency wallet
diversify and personalise real estate portfolios from a range of single and institutional-quality assets
All transfers and investments are made real-time with absolutely no fees and no penalties and likewise for all interim proceeds or cash withdrawals.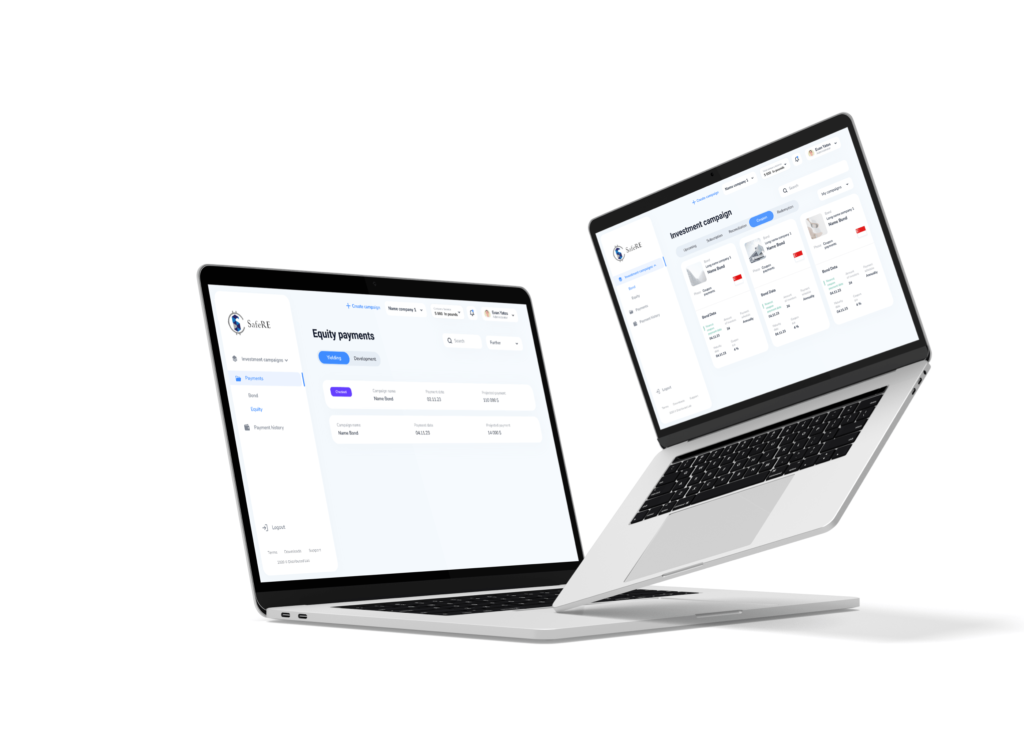 Leading Investor Protection
The combination of blockchain technology with regulated digital custody ensures that investors cannot lose their tokens and that no third party can gain access to their investment. SafeRE's multi-layer protection of client digital token holdings provides the required assurances needed by any individual and institutional investors.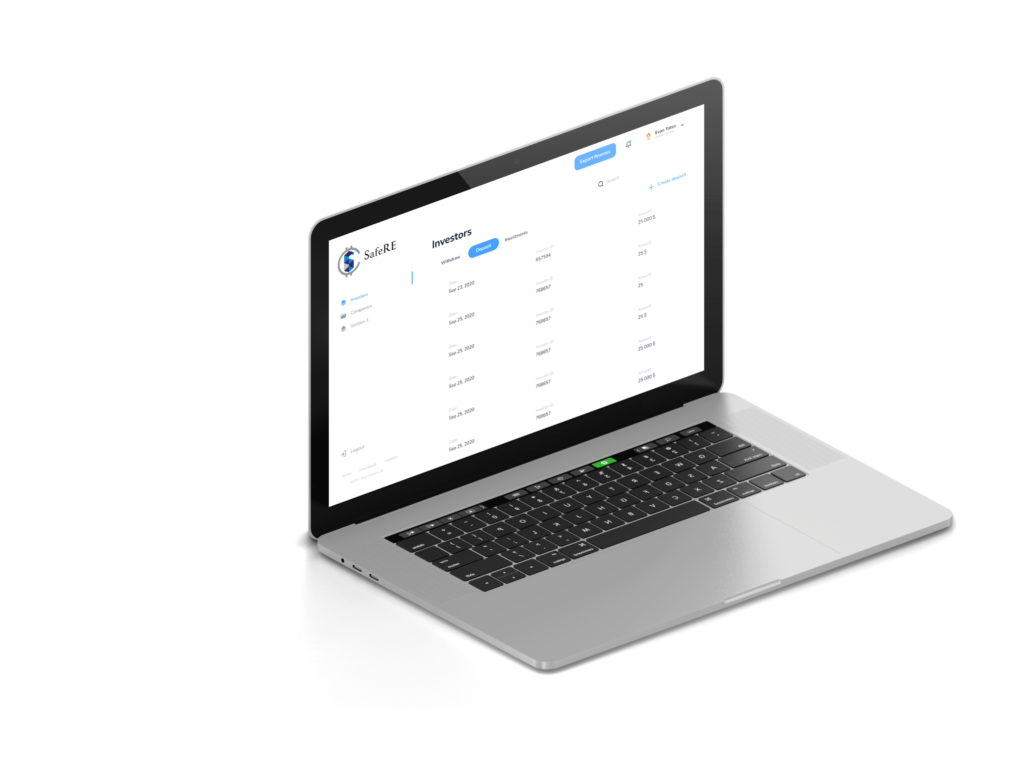 Comprehensive Dashboard
"My Investment page"
records all your past transactions
helps you keep track of upcoming payout
gives you a comprehensive and updated value of your investments
You can access "My Investment page" anytime you wish and monitor the performance of your investments, 24/7.