Invest with Ease and Security
SafeRE has revolutionised the Real Estate landscape by harnessing advanced technology.
It offers unprecedented access to cost-effective and innovative real estate investment solutions by streamlining the process. We anticipate market and tech dynamics with a nimble strategy, optimizing returns for investors.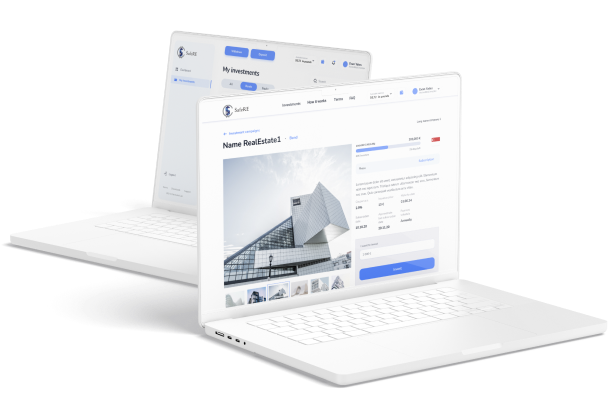 Ethical. Innovative. Rewarding.
8 Reasons to Invest on SafeRE
SafeRE is the most beneficial way to invest in real estate. Join the SafeRE portal to browse the different opportunities today. SafeRE charges no transaction fees to investors.
Capital Gains
Real estate generates value increases over time and hedges against inflation.
Liquidity
The SafeRE marketplace allows to buy digitalize securities anytime.
Tax Efficiency
Real estate investment structures on SafeRE are tax-optimized.
Risk Control
SafeRE proprietary due diligence process ensures the quality of investments.
Income
Consistent, regular dividends or interest payments from low risk investments without transaction cost.
Diversification
Investing in different opportunities protects from volatility during economic downturns.
Digitisation
SafeRE's value chain is completely digitized and easy to use.
You Are Doing Good
SafeRE is friendly to the environment and offers ESG-compliant investments
Get Early Access to Your Investment!
Pre-Signup and start investing in our sought-after funds.
Still not sure what you're looking for, reach out to our team.
Get Early Access to You Investment
Pre-Signup and start investing in our sought-after funds.
Still not sure what you're looking for, reach out to our team.
+ Who can invest?

SafeRE's investment opportunities are available to "accredited investors" who meet the criteria based on requirements of Securities and Futures Act 2001:

Net personal assets ("NPA") exceed S$2 million (or its equivalent in a foreign currency), net equity of primary residence capped at S$1 million of the S$2 million threshold OR
Net financial assets ("NFA") (net of any related liabilities) exceed S$1 million (or its equivalent in a foreign currency) OR
Income in the preceding 12 months is not less than SGD300 thousand (or equivalent in a foreign currency) OR
A person who holds a joint account with an Accredited Investor, dealings through that joint account.
+ How does an investment work with SafeRE?

SafeRE is an automated and seamless online investment experience with easy onboarding, integrated and paperless KYC, instant deposit and investing process.

The platform's digital wallet allows investors to store digital multi-currency and investment tokens.
With global access on offer 24/7, investors can benefit from much lower investment costs and from a fully transparent investing process.
Portfolios can be easily created and customized, offering the ability to reflect every investor's preference.
+ What is the minimum investment amount?

The minimum entry is $5000 in any of the currency or depending on the investment entry ticket size as stated.
+ How are the funds selected on SafeRE?

At SafeRE, we conduct rigorous due diligence and financial analysis to screen the investments on our platform. We carefully consider fund managers' track records, team expertise, and credit worthiness. While we prioritize quality investments, it's important to note that no guarantee is offered on the fund's future performance.
+ Which fees do I need to pay when investing on SafeRE?

SafeRE does not charge any fees for using or investing through its platform. Fund related fees and exchange rate may be charged based on the Terms and Conditions of each fund.
+ Will SafeRE team provide investment advice?

For regulatory reasons, SafeRE team can't advise investors on their investments. Please consult your investment advisor or consultant and invest at your own risk.