SafeRE:
The Easy and Safe Real Estate Investment Platform
SafeRE has created a revolution in Real Estate Investment, using advanced and safe technology efficiently and effectively.
It offers direct access to cost-effective and innovative real estate investment solutions.
Embrace the rewarding future of real estate investing with SafeRE.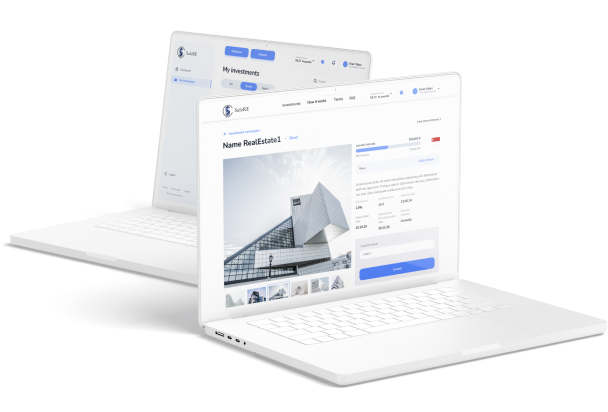 Ethical. Innovative. Rewarding.
Single point of access for the Real Estate Community through a proprietary, fully automated, integrated system.
Innovation on multiple levels through application of best-in-tech class in the whole value chain (AWS EC2, AWS RDS).
Digital securities, encrypted on verifiable ledger, compliant to Stellar Protocol.
Multiple back-up systems and regular cyber security audits.
User-friendly interface allows users to find the right investment or financing fit.
The Platform
SafeRE is a new solution providing a digital community and marketplace for asset owners, investors, and service providers.

It is faster, safer, more efficient and is revolutionizing the way real estate investment and funding transactions take place.
Platform Design
Frequently asked questions
A: Press "Forgot Password" on Sign-in page (https://platform.safere.com/sign-in), follow instructions to recover your password. Make sure you have checked your spam mailbox and got verification code here.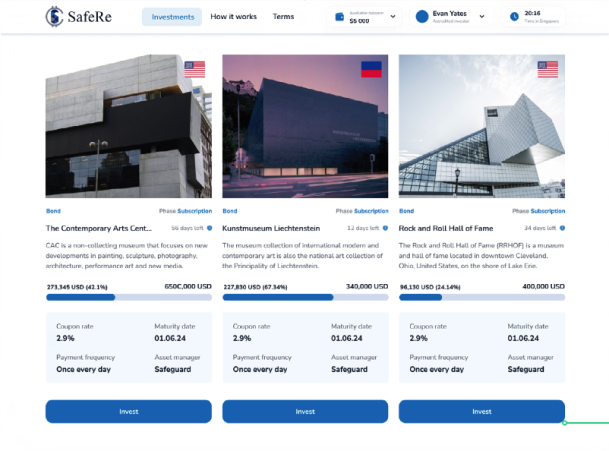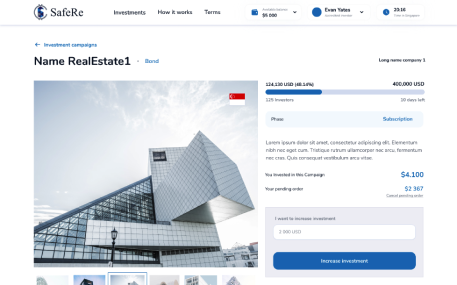 Singapore's premier digital real estate investment platform
Why SafeRE?
I forgot my password and cannot access the Platform. What should I suppose to do?
Can I transfer the assets out of the Platform and save those in my own wallet?
Is the Platform safely encrypted? What if the Platform is hacked? Will I lose my securities and wallet balance?
Creating your account is easy!
SafeRE is designed while keeping your investment experience in mind. After an easy sign up process, accessing your investments will be a few clicks away!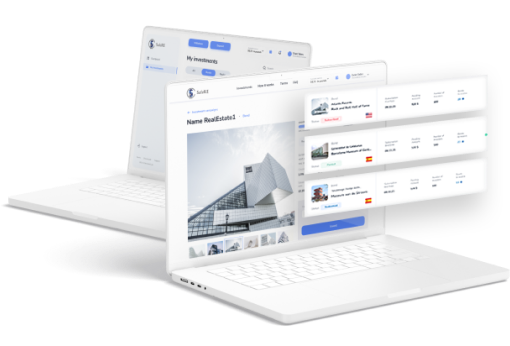 Our Team
SafeRE was established by a dedicated group of passionate experts encompassing real estate, finance, technology, and asset management.

From the very outset, our primary objective has been to harness cutting-edge technology and innovative strategies in order to streamline and simplify the intricate landscape of real estate transactions.
SafeRE – Safe and Easy Real Estate Investments
SafeRE harnesses advanced technology to revolutionize the Real Estate realm, offering unprecedented access to cost-effective, innovative solutions. We streamline the investment and funding process for investors and asset owners alike. With a nimble strategy, we anticipate market and tech dynamics, optimizing returns.
Ethical. Rewarding. Innovative
Leading Real Estate Investment Platform
Security
Immutable digital contracts
Quality
Expert team in real estate, IT, finance, risk, and assets, ensuring confidence.
Fairness
No transaction cost and minimal fees.
Accessibility
Fractional institutional real estate investments without intermediaries.
Transparency
Agnostic, paperless, intermediary-free, digitized investment process.
Regulation
Create Your Account
Sign up using your email and full name
Access Your Profile
Login to your account and access your profile, wallet, settings and investment
Credential Confirmation
Provide all the necessary details as requested for approval and verification of KYC
Verify Your Email
You will receive a verification link in your inbox for confirmation
Explore SafeRE
Manage your investments, wallet and explore Real Estate Investments
Invest with SafeRE
Start investing in funds that fit your investment goals
Previously CEO and board roles at DBS Bank, Singapore's largest bank, Ford Credit and Ford Financial Service, Group Executive Director of Standard Chartered Bank. Сreated Citibank Personal Banking.

Paris Business School and University.

Previously COO and senior positions at Standard Chartered Bank, Korea Exchange Credit, Citibank, Deutsche Bank. Builder of global franchises.



Mainz University and London Business School.
15 years in Real Estate, finance and tech specialist. Previously Knight Frank and Standard Chartered Bank. NUS and Singapore Management University Business School.


Singapore Management University.


Get Early Access to Your Investment
Pre-Signup and start investing in our sought-after funds.
Still not sure what you're looking for, reach out to our team.
Frequently Asked Questions
+ Who can invest?

SafeRE's investment opportunities are available to "accredited investors" who meet the criteria based on requirements of Securities and Futures Act 2001:

Net personal assets ("NPA") exceed S$2 million (or its equivalent in a foreign currency), net equity of primary residence capped at S$1 million of the S$2 million threshold OR
Net financial assets ("NFA") (net of any related liabilities) exceed S$1 million (or its equivalent in a foreign currency) OR
Income in the preceding 12 months is not less than SGD300 thousand (or equivalent in a foreign currency) OR
A person who holds a joint account with an Accredited Investor, dealings through that joint account.
+ How does an investment work with SafeRE?

SafeRE offers a seamless online investment experience with easy onboarding, integrated and paperless KYC, instant deposit and investing process.

The platform's digital wallet allows investors to store digital multi-currency and investment instruments.
With global access on offer 24/7, investors can benefit from much lower investment costs and from a fully transparent investing process.
Portfolios can be easily created and customized, offering the ability to reflect every investor's preference.
+ What is the minimum investment amount?

The minimum entry is $5000 in any of the currency or depending on the investment entry ticket size as stated.
+ How are the funds selected on SafeRE?

At SafeRE, we conduct rigorous due diligence and financial analysis to screen the investments on our platform. We carefully consider fund managers' track records, team expertise, and credit worthiness. While we prioritize quality investments, it's important to note that no guarantee is offered on the fund's future performance.
+ Which fees do I need to pay when investing on SafeRE?

SafeRE does not charge any fees for using or investing through its platform. Fund related fees and exchange rate may be charged based on the Terms and Conditions of each fund.
+ Will SafeRE team provide investment advice?

For regulatory reasons, SafeRE team can't advise investors on their investments. Please consult your investment advisor or consultant if needed.
---
Stay Connected
You'll occasionally hear from SafeRE team with the choice to unsubscribe anytime in each email.